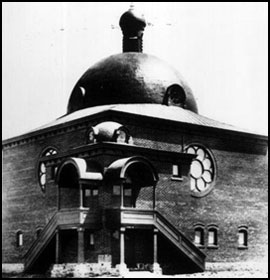 Original Congregation Albert, Albuquerque, NM
As Jewish pioneer families moved to the United States Southwest and established communities, synagogues served important religious and cultural purposes. Besides fulfilling the need for a formal house of worship, synagogues also were extremely important for preserving Jewish identity in these often sparsely populated communities. Photographs of Congregation Albert and Temple Mt. Sinai, both in New Mexico and built in the late 19th century, show the influence of Moorish architecture.
This exhibit focuses on historical aspects, synagogue architecture and religious objects of synagogues in El Paso, Texas, New Mexico, Arizona, and Southern California.
Brief Histories
Congregation Montefiore, Las Vegas, NM. Read about Congregation's 1886 building fund appeal and see images of members pledges.
Congregation Albert, Albuquerque, NM
Congregation B'Nai Israel, Albuquerque, NM
Congregation Anshei Israel, Tucson, AZ
Temple Emanu-El, Tucson, AZ
Temple Mount Sinai, El Paso, TX
Architecture
Synagogues in the U. S. Southwest display diverse architectures, serve as focal points for their communities, and preserve sacred religious objects. The age-old beauty of these images are a legacy of endurance for Judaism in the Southwest. Contemporary synagogue architecture shows how these traditions are expressed in the Southwest today. View images of contemporary architecture contributed by southwestern synagogues.
Robert P. Davis' Virtual Restoration of Small-town Synagogues in Texas. "This project seeks to demonstrate an alternate means of preserving memory and experience of these souvenirs of Jewish heritage."